Mui Ne Beach
Mui Ne Beach is located 11km east of Phan Thiet and 200km from Ho Chi Minh City. It is famous for its huge sand dunes which have been the subject of many photos and video clips. You can also follow the Suoi Tien (Fairy Spring) which is a stream that runs through some of the dunes. A reasonable pair of shoes is advisable since the sand can be very hot after the sun has been out for a couple of hours.
Getting There
Regular buses run between Phan Thiet and Mui Ne Beach. You can also rent a motorcycle taxi for the short journey.
Hotels in Mui Ne Beach
Below is a list of hotels in Mui Ne sorted by price range (highest first). If you wish to telephone a hotel the area code for Mui Ne is 062 (+8462 from outside Vietnam).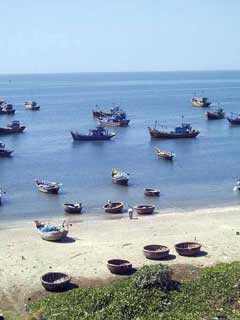 Saigon Mui Ne Hotel


Price Range: From $55 per night
Km 12.2 Ham Tien, Mui Ne Beach, Phan Thiet

Swiss Village Resort


Price Range: From $55 per night
Mui Ne Beach, Phan Thiet

Coco Beach


Price Range: Up to $100 per night
Mui Ne (Tel: 847111, Fax: 847115)

Palmira Resort


Price Range: Up to $65 per night
Mui Ne (Tel: 847004, Fax: 847006)

Bamboo Village Resort


Price Range: Up to $65 per night
Mui Ne (Tel: 847007, Fax: 847095)

Full Moon Resort


Price Range: Up to $50 per night
Mui Ne (Tel: 847008)

Vietnam/Austria House


Price Range: Up to $50 per night
Mui Ne (Tel: 847047)

Small Garden Hotel


Price Range: Up to $25 per night
Mui Ne (Tel: 847012)

Mai Khanh


Price Range: Up to $25 per night
Mui Ne (Tel: 847117)

Nam Duong Hotel


Price Range: Up to $25 per night
Mui Ne (Tel: 847441)